Worksheets¶
From the Dotty documentation:
A worksheet is a Scala file that is evaluated on save, and the result of each expression is shown in a column to the right of your program. Worksheets are like a REPL session on steroids, and enjoy 1st class editor support: completion, hyperlinking, interactive errors-as-you-type, etc.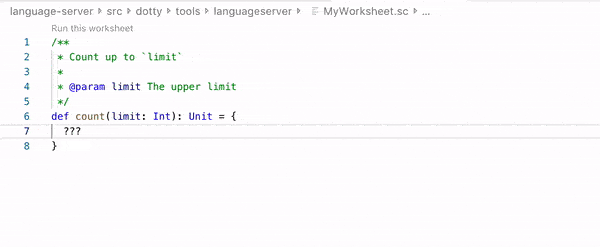 Worksheet example in Dotty IDE / Visual Studio Code. (source: Dotty documentation)
Let's go through this definition to explain how worksheets differ from the REPL:
First of all, worksheets are files. That means we can put them under version control and share them with others more easily.
Second, we enter our expressions into an editor window. In most cases, the input editor is on the left while the output is shown to the right. This layout makes it easier to see multiple expressions at once, because they are not interleaved with their outputs. It also makes it easier to write multi line expressions and to edit expressions.
Third, a worksheet is evaluated on save. More specifically, all expressions are recomputed every time we save the worksheet. The advantage of this behaviour is that it's easy to change an earlier expression because all dependent values are automatically recomputed. The drawback is that you lose control over which expressions are evaluated so it's not very well suited for things that take longer than a few seconds like loading large datasets or running complex computations.
The fourth point about editor support is mostly IDE dependent. Dotty IDE worksheet support looks very nice, but most of us are still stuck with Scala 2. I've tried IntelliJ worksheets a few times but they didn't work very well for me. Eclipse based Scala IDE had good worksheet support last time I tried it but isn't widely used for other reasons. There's also an online worksheet variant called Scastie that only requires a browser and makes it very easy to share worksheets online.
So worksheets solve some of the issues of REPLs mentioned above. Their layout and their execution model makes multiple expressions easier to read and to change, even if their outputs are shown. However, the execution model also introduces new issues.
So the natural question that follows is: Could we combine the advantages of REPL and worksheets somehow? Interestingly, there is a technology that does have most of the advantages of both (and more): Jupyter notebooks.