Review: Bias-Variance Tradeoff¶
Why do several models perform better than a single model? Recall our discussion of goodness of fit - a model is often prone to either underfitting or overfitting. Another way to look at this dichotomy is as a tradeoff between bias and variance.
Bias is another word for "systematic error." This is error that can occur because a model is underdeveloped or undertrained - in other words, it is inadequate for the task it is attempting to perform. Imagine, for example, using a linear model to fit a relationship that is clearly quadratic or cubic. Some of the relationship would be captured, and occasionally the model would get things right. But as a whole, this linear model would have all-around poor performance. We call this underfitting.
Variance can be thought of as "random error." This, in contrast with bias, occurs because a model is overly sophisticated or complex for the task at hand. The model would perform very well on the training data, but as soon as the data is varied slightly - as soon as we move to a testing set, for example - this model would perform poorly. An example of this is fitting a degree-9 polynomial to a relationship that is quadratic or cubic. As we saw last lecture, this is an example of overfitting.
The bias-variance tradeoff states that for a single machine learning model, bias and variance cannot be reduced simultaneously: [2]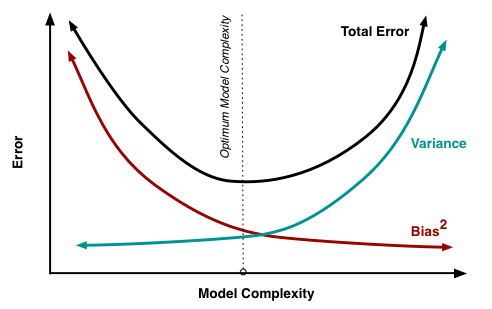 We have already seen methods for reducing variance (regularization), but there are other recently-developed methods for reducing both bias and variance. These methods, also called ensemble methods, bypass the bias-variance tradeoff by employing a mix of many models. The usage of many models increases predictive power, and the blending of these models together into a single output reduces variance.
We'll examine a few types of ensembles: boosting, bagging, and stacking.