Let us suppose that our objective here is to determine whether or not to recommend movie5 to Charlie. The NA here signifies that he has not yet watched the movie, and thus have not rated it. How could we go about this problem?
(Important side Note: notice how this problem is very much like a NA imputation problem, and has similar applications)
Collaborative Filtering
¶
Collaborative filtering uses other users' information to recommend the next content. So in this problem, we will first look for someone whose ratings are similar to Charlie - Bob, for example - to decide whether to recommend or not.
We see that Bob gave it a 4, and can use that information to predict that Charlie will think favorably of the movie as well, and recommend movie 5.
Content Filtering
¶
Content filtering, on the other hand, does not use other users' information, but rather on past information on the certain user. For example, it examines whether movie5 is similar to any other movies that Charlie has seen. We can see that Charlie liked movie 3, and did not like movie 1 and 4. We can compare these movies to movie 5.
This requires another dataset on movies. This dataset could potentially carry information on cast, genre, director, year it was made, and etc.
Hierarchical Clustering
¶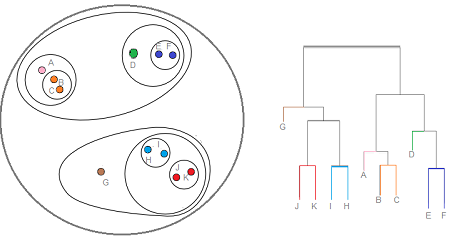 Hierarchical clustering is exactly what it sounds like; it groups data in a multilevel set of clusters. Each circle in the image above represents a level in the hierarchy of clusters; the dendrogram to the right represents the same structure. In a bottom-up approach to hierarchical clustering, we start with each point as its own cluster and group clusters that are closer to each other into successively larger clusters until we reach a single cluster that contains all of the data points.
Proximity/ Similarity
¶
Proximity, or similarity, is how close a point is to other points within a bigger dataset. The most common measure used is Euclidean Distance, which is represented by the formula:
That is, the distance between two points is the square root of the sum of the squared differences in each dimension. The smaller this metric, the closer the points. There are a variety of ways to calculate this distance in Python; one is to use linalg.norm in numpy. For example: